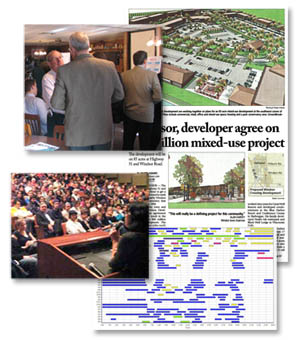 PRW knows that project success comes from having a well-thought out strategic plan. How you convey your message is critical to the way it will be received. Powerful messaging must be created and delivered in a way that is positive, effective and can resonate with your audience and beyond.
Through town hall meetings with key staff members or governmental leaders and our clients, we can provide the necessary face-to-face time to clarify and resolve issues. With our tried and proven relationships in all elements of the media, we can place opinion pieces, editorials and articles with association presidents and their members to help convince political interests to vote for or against legislation. We book speaking engagements with important business and civic organizations like the chamber of commerce and other business groups.  We also manage special events like open houses and information nights to educate the public on key issues.
Creating that welcoming climate is a speciality of the PRW team. With decades of combined reporting and political experience, we use our refined techniques of building relationships to turn friends into advocates and supporters into spokespeople. We know how to refine your message so that it succinctly conveys the ideas and concepts you want to express. We know how to get others to carry the ball for you, in the commuity and in the media, so that other voices deliver your message, offering a varied and more layered discussion.